Don't put off until tomorrow, what you can take off today! Every body benefits from nudity!
Get to your nearest Naturist venue and give it a go! 
Established Naturists will think they needn't read this because they know what to do and where to do it but please continue because it might remind you how you once felt and enable you to help potential Naturists, giving them the understanding and support they need to enjoy the glorious, summer months coming soon!
(Please don't burst my bubble by saying that's not what we have in store! We don't want it TOO hot anyway as it only results in hose-pipe bans and queues on all major roads leading to the coast!
Let's just hope for some nice sunny days that will enable us to laze around the pool in naked contentment!)
I know, from my own experience and that of many new club members I have met over the years, there are plenty who WANT to do it but remain nervous and they need our help to relax! So, you've joined BN and received this magazine and are aware of the list of Naturist clubs and venues to attend but you're still not sure how to make a start? It's very simple: make contact!
If you have a club in your area, make contact by phone or email. Give them your name and address and a few details about yourself and your Naturist experience so that they know how to best help you. Please don't spend time letting nerves get the better of you: make that call today and book the visit before your bravado evaporates and you decide not to bother. You would only regret it and then repeat the process another week and get worked up into a nervous frenzy, once again! Believe me, it's easier than you might think and more worthwhile than you will ever imagine, so don't delay the experience any longer!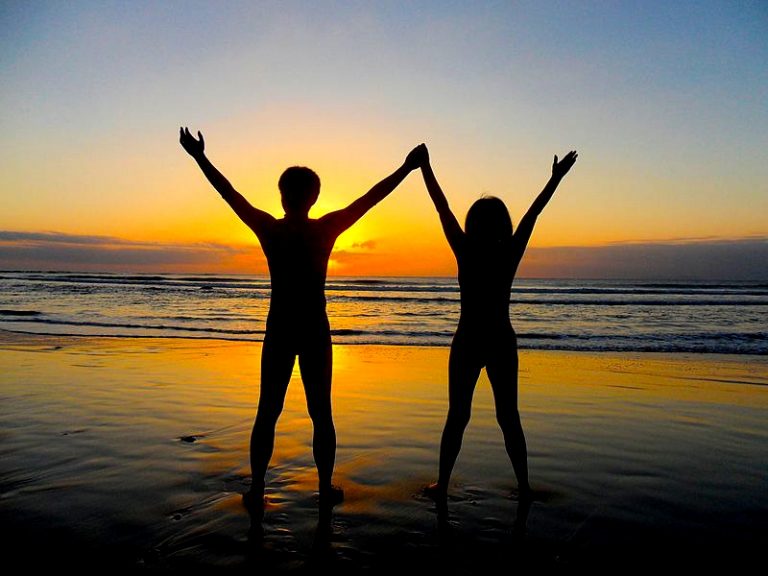 During that first phone call or email, ask any questions you have lurking in the back of your mind; have them written down if you ring. They won't mind what you ask and won't think it strange to be wondering about things: all questions are valid, so don't be embarrassed to ask.
When you attend the club take a bag to store your clothes, some loose change for a drink, a packed lunch if you're staying all day, a towel to sit on when using communal chairs, a towel to dry yourself after using the pool, shower gel if you choose to have one after a sauna or swim and sun lotion and sunglasses if you hope to sunbathe for that all over tan! But Naturism isn't just about sun bathing; it's about the feel of freedom from clothing, although it does help to have the temperatures that make it comfortable! Pack a magazine or book but I bet you end up chatting all afternoon and never read any of it!
What's holding you back? Please don't say you're worried that you are overweight, have stretch marks, skin problems, scars or have any body issue at all because Naturists are really accepting of everyone and none of these things matter nearly as much as you imagine they will. I know Naturists with stoma bags and some having had mastectomies and if they can feel confident within a Naturist environment then anyone can.
None of us are perfect. We all seem to have something about ourselves we don't particularly like but let's face it, what IS "perfect"? Even those that seem that way have their own concerns but the difference between Naturists and the rest of the population is that we don't let these silly worries stop us from enjoying life and being comfortable with our bodies and everyone else's. We don't judge or shock easily and it is the one place that you will feel at ease and soon realise there are more important things in life than a little bit of cellulite!
If you have children but are unsure if it is suitable for them, bring them along and be prepared to have time off as they will undoubtedly love the relative freedom of club grounds, enjoy the pool and get on famously with the other young people who are already part of the scene. All ages seem to mix really well and amuse themselves. No one makes children undress, except to use the pool, but if one does, the others follow and it all seems perfectly natural in their eyes. Young children have no idea that nudity is 'supposed' to be rude and hardly notice if a person is naked or not. They are more likely to notice where they can buy an ice cream and who's got the best phone! If you feel nervous when you get there, be honest, tell the person showing you round and they will understand and put you at your ease.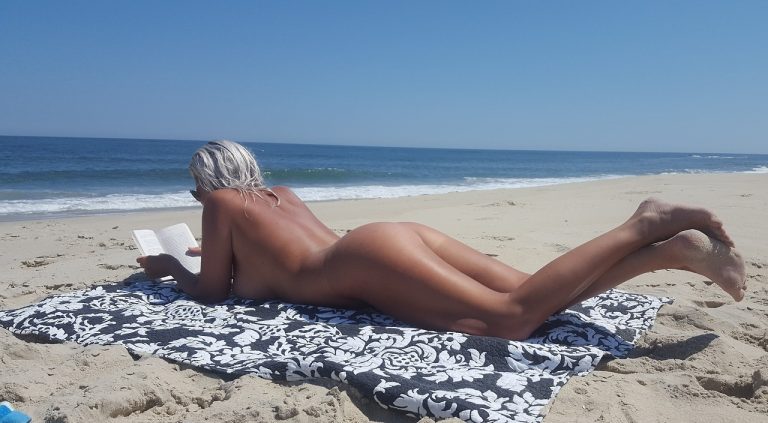 Don't worry about seeing naked bodies and not knowing where to look. Think about it: it's normal to talk to the face, whether dressed or not. I assure you that you will adapt very quickly once you are among us but you can generally find a quiet corner to sit in, if you think it will help. There are a number of days through the summer months when BN members gather at Naturist beaches and you'll find like-minded people out to enjoy themselves, so you're bound to make new friends instantly.
All the things apply as before but this time it might be wise to take a windbreak as, even on the nicest of days, it can be breezy by the sea and that little bit of shelter could make all the difference between suffering and enjoying the day!
You'll discover how much easier it is to undress and prepare for that dip in the sea: no more worrying about getting changed beneath a towel as no one will be watching you, hoping to see some "naughty", naked flesh! You can have a naked dip, dry yourself off, lay in the sunshine and get dressed at your leisure! Unfortunately the Naturist areas can often be a little way from the main paths so do go prepared for a walk. Limit what you carry and use a rucksack.
There is an annual trip to Alton Towers to use the water park for a weekend in November and this is very popular. No, not the outdoor rides as well as even we, the seasoned Naturist, draw the line to being frozen for the sake of nudity! Well, most of us do!
Another delightful place for a first time is a clothes-optional day in Abbey House Gardens where you can turn up clothed and have no pressure to undress but after wandering around, if the sun is shining, it will be naturally tempting to give it a go! This is a very peaceful, relaxing way to spend a day: the freedom of clothing and time to smell the roses!
There are holiday destinations at home and abroad, indoor swims, camping sites, rambling walks, other garden open-days and… well, do as I've just done and look at the Events Calendar on the BN website: it's amazing how many places you can enjoy Naturism with like minded people, simply by belonging to this organisation. Go online to the BN forums and ask people for more detail of the destination you choose to attend. Get chatting and arrange to meet up when you get there so that you don't feel like the new kids at school! Just don't suggest wearing a red carnation in your button hole; maybe carrying a newspaper would be the better option to recognise people by! Or an umbrella!
Wherever you go, you will have people to talk to and give you support if you feel nervous, which won't last for long as we are such a friendly crowd that you will soon feel like you've done it forever. You are opening up a whole new way of life and joining a community of people who share the common bond of Naturism and will develop new friendships and find endless places to discover and enjoy.
BN needs all the members we can get and the country needs all the Naturists it can get for Naturism to be accepted as normal and discount the theory that we are just a bunch of weird people who take our clothes off. The more there are of us, the more likely we will get Naturism accepted as a favourable pastime. Times are changing and there have been reports in reputable national newspapers in the last few months that state going naked is actually a healthy and beneficial thing to do so let's keep that thought going and prove them right!
Relaxation is an important stress reliever and sat amongst friends in the comfort of your birthday suit on a sunny day enjoying a bit of friendly banter and light hearted discussion, has got to be good!
There's been a lot said about parents being so careful with sun protection that their children are developing rickets asa result of a lack in Vitamin D which is obtained directly from the sunlight. As long as we take precautions not to allow their skin to burn, they will benefit from being outdoors rather than in front of a monitor in their bedroom for hours on end.
Ok, what are you doing still sat there? Pick your phone up and "who you gonna call?" Your nearest Naturist club, that's who! Or any of the BN event organisers! This time next year you're going to be the ones receiving visitors and telling them they have nothing to fear and that the only thing you did wrong was not to have done it sooner!
Come on, enjoy the summer!
Roni Fine
Source: https://www.bn.org.uk/news/information/about-naturism/roni-writes/new-to-nudity-r411/